5 Things To Grab Today
Wednesday June 27, 2018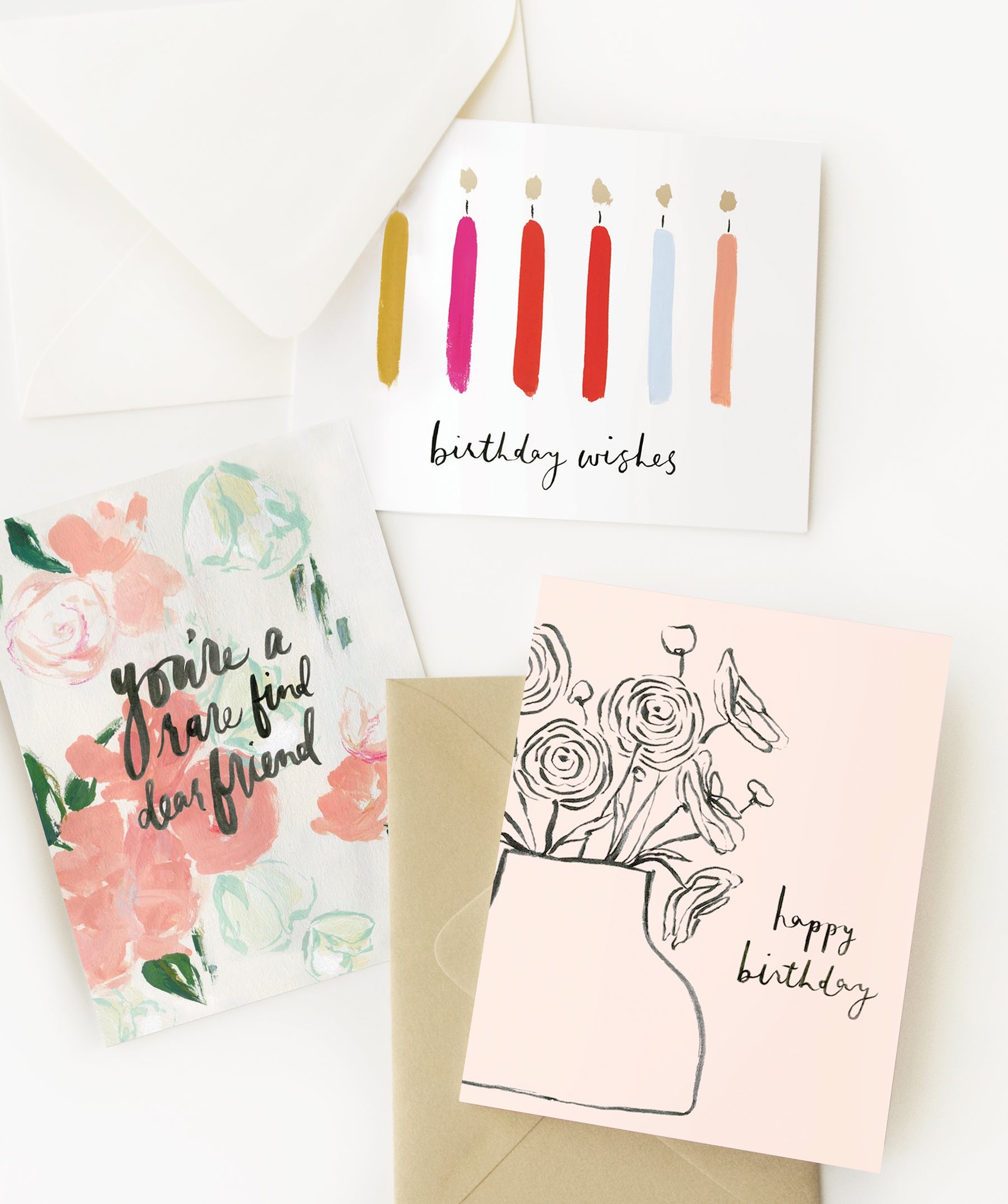 It's here, friends. Four. Sometimes it feels like forty years, other times four minutes. Our story is an amazing testament to the beautiful things that happen beyond the work of our own hands, the outpouring that happens in our surrender. As we reset for year four, we remind ourselves that we create because we believe in elevating the things you reach for daily while striving to shift the way business happens as a whole; we take the cultural position that women can thrive both at work and at home. Donna and I are committed to seeing this through year after year, refining how these commitments manifest as we grow and our team expands.
As we talked about last week, we're celebrating this moment with an Anniversary Sale to say thank you - thank you so much for journeying alongside us, rooting for our story near and far. Here's the deal, friends:
- Use code CELEBRATEFOUR for 25% off all orders over $25.
- To the beautiful shops who carry our line, use code FOURYEARS for free shipping on all US orders. If you're an international stockist, email us! We have a special something for you, too.
- Don't miss it - sale ends Friday at midnight PST. 
We rounded up five things we'd grab during this two-day bonanza because these sales only happen twice a year. We don't and will never run endless sales (which may seem like business suicide for some) to stay true to the business practices we believe in. We don't bring in a ton of useless inventory just to drive our prices lower, so we don't have a ton of product that we're worried about moving. We do our best to commit to this way of manufacturing because 1. we don't want to be careless about waste in an effort to stay conscious of the ways that manufacturing can negatively impact our earth, and 2. as a small business, we have to be mindful of how we're allocating our resources. So much of what we do is informed by how we want to take care of our team, the ways we hope to grow the company in the years to come, and the intentionality behind each product that we add to our line. All of these things are carefully considered so that we can continue to bring you high quality, well-made products that add to your lives.

With that said, we also want you as our customers to carefully consider the pieces you purchase and are so excited that a couple of times a year, you can stock up on the things you've been eyeing, the things you love. The ones we'd grab today:

1. Phone cases.




We've talked at length about why we waited a long while before releasing these and the response has been amazing. They're worth every penny, but who doesn't love a discount. Buy them once, keep them on all year.

2. The Everything Clutch.




We've personally sourced every part of this clutch in downtown Los Angeles, from the color of the zipper tape to the fabric of the linings, to the complementary suede. Each piece is sewn by hand in a local sewing studio and made to last. Grab them for coffee with a friend, we guarantee they'll transition effortlessly to that lunch meeting and dinner date.

3. Birthday Cards.




Friends, there will never be anything like a handwritten birthday note. It's the time to reflect on and celebrate everything this person has been to you. Keep the perfect stash at home - you'll be so happy you did.

4. The Extraordinary Year Agenda.




Your preorders of these have us that much more excited about offering our first agenda. Multiple reiterations of the concept and design brought together one that we hope you'll reach for year after year. Solid blocks of space for your day-to-day planning with room at the margins for other areas of your lives that require a little extra breath, plan well for an extraordinary year.

5. Art Prints.




The start of a new season (hello, sweet summer!), we love finding ways to freshen things up. Sales are a great time to grab art prints for a new gallery wall, or to warm up that corner of your office. The way art transforms our everyday spaces informs so much of how I paint and I love seeing our prints in your homes.

A true celebration of everything we've done together, you, our dear friends, and our amazing team here who makes Our Heiday thrive. Tag us or use the hashtag #ourheidayeveryday to show us the things you've picked up. Seeing you bring our products into your everyday is one of our favorite things.

with so much gratitude,
pat
---